Bharatanatyam is one of the oldest classical dance heritage of India. The mother of many other Indian Classical Dance forms originated in the Hindu Temples of Tamil Nadu and eventually flourished in South India. With its origin in the temples of Tamil Nadu, it soon became a crucial part of South Indian Temples.
The base of Bharatanatyam traces back to 'Natya Shastra'. It divides the dance form into two distinct forms:  Nritta and Nritya. Nritta focus on mastery of abstract hand gestures and movements. On the other side, In Nrtiya, the dancer employs a complex system of hand signals & body language to depict emotional expressions.
The name of this dance form was derived by combining two words: Bharata and Natyam, where 'Natayam' means dance & Bharata is a mnemonic comprising 'Bha'-Bhava (emotional feeling); 'Ra'-Raga(melody); 'tala'(rhythm).
The 2000 years old dance form comprises a solo dance performance, traditionally performed by certain families of the Tanjore district, known as 'Nattuvans'.
The dancer is accompanied by nattuvanar, who conducts the whole performance, often executed by Guru. The music of dance form is based on Carnatic classical music. The chief instruments played are 'Mridangam' and a pair of cymbals. Sometimes Veena, Violin, Ghatam, and Flute are also used.
The Costume of the dancer is similar to that of a Tamil Hindu Bride. The dancer wears a tailor-made saree consisting of a special cloth specially stitched in pleats that fall in the front from the waist accompanied by a jewellery belt.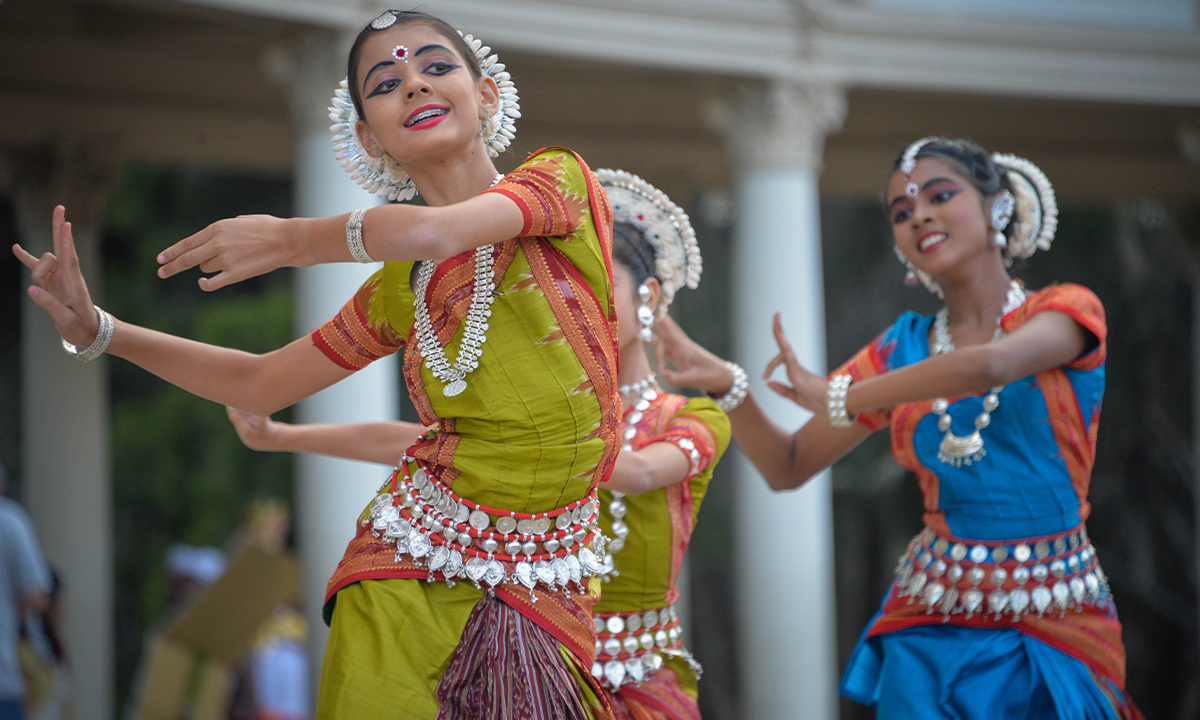 The dancer's attire is well-complemented with traditional jewellery along with vivid face makeup specifically highlighting the performer's eyes.
On the other hand, musical bells anklets (ghunghru) are wrapped around the ankles.